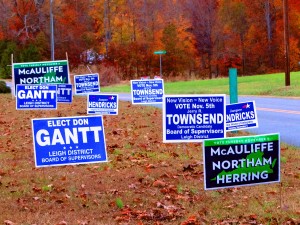 Let's say that Sally Smith and John Jones are running against one another in a state-wide election for U.S. Representative. Your voting location? It's at the elementary school in the city of Carlton.
When you arrive at the school, you sign in, as always. Then you proceed to the voting booth – a voting booth that looks exactly like today's electronic voting booths. As usual, you enter the privacy of the booth as a totally anonymous voter: the machine has no idea who is pressing the buttons.
You cast your vote or votes – and the machine will say, "Thank you for voting! Your Vote Word is:   House".
The voting machine has just given you a "Vote Word" which is unique to you. Remember that word – or scribble it down. And you're done voting.
What just happened? Not an awful lot from your perspective, which is how it should be. We can and should keep the voting process as close as possible to the way it works now: no printers, no "smart cards", no scanners.
The only change in the way we vote is seeing a Vote Word appear on the screen.
What the voting software did was to take your Vote Word – "house" – and record it along with your vote. Only one vote at the elementary school has "house" associated with it. And – unknown to you – your next-door neighbor was the only one who saw the word "apple", and her husband was the only one who saw the word "desk".
The next day, or as soon as the election authorities get around to it, your vote will appear on a web site, along with everyone else's vote. The votes are arranged alphabetically by Vote Word. Scanning down the list of results at the elementary school, you find the word "house" and see that "house" voted for Sally Smith. And so you know that your vote was recorded and counted correctly. It's that simple.
Take a look at how it might look to have Vote Words listed out on the Web: Check out this Sample listing.